About Us
The Baked Beads story...
Torn between his passion for both art and business, David left his hospitality financial consulting career to travel the world to write, paint, and contemplate his future. After three years of adventures around the globe, he ended up in the East Village of New York City in 1991. Determined to pursue a more creative path, he purchased a small bag of beads from an African bead store and taught himself how to make earrings.
The business grew as David drove throughout New York and New England selling his creations store-to-store. His travels led him to the Mad River Valley in Vermont where he decided to relocate in September of the same year. A few months later, he met his soon to be wife, Robin, who added her design flair and marketing expertise to the growing fashion jewelry business.
Making sales treks between his house in Vermont and Robin's apartment in New York City, enough money and confidence were accumulated to take the business to the next level. Their first wholesale jewelry trade show in New York City was a huge success.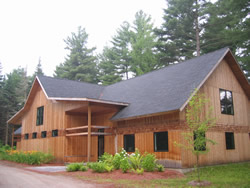 By this time, the two were engaged and Robin had moved to Vermont. With the help of two other workers, they made all of the jewelry in their spare bedroom. A year later, they moved the business out of the house into an old inn on the river in downtown historic Waitsfield where for the next nine years the business grew to over twenty employees. By the summer of 2001 Baked Beads had outgrown this location, and work was started on a new facility a few miles down the road. The move in December 2002 not only provided a stimulating new work space, but also allowed for significant expansion to the size of the jewelry collection as well as the addition of scarves.
Today, Baked Beads products can be purchased online and at selected retailers across the country. The company continues to grow by offering clean, colorful jewelry, scarves, and other accessories emphasizing style and moderate price points. And most importantly, Robin, David, and their amazing crew are having as much fun making jewelry today as they were 31 years ago.