Fashion Accessory Clearances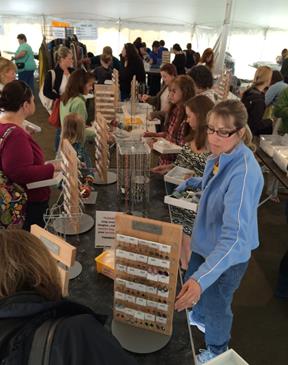 We are designers and manufacturers of fashion jewelry, scarves and accessories selling to retailers across the country. Since 1992 we have offered all of our discontinued and previous season's styles at 75% off retail at our fashion clearances.
As the clearances have grown over the years, so have the bargains. These days, you never know what you're going to find at the various Baked Beads Fashion Accessory Clearances: candles, socks, slippers, hats, gloves, and other fun & unique gift items $10 and under!
You can find current Baked Beads collections by using the Store Locator and by shopping online. Our customers have included Anthropologie, Nordstrom, Urban Outfitters, Red Envelope, Coldwater Creek, Delia's, Tommy Hilfiger, Paper Source, Wet Seal, and thousands of specialty stores nationwide.
WAITSFIELD, VERMONT
Memorial Day Weekend • May 23-25, 2014 • Friday-Sunday • 10am-5pm
Columbus Day Weekend • October 10-12, 2014 • Friday-Sunday • 10am-5pm
Under the Tent • Route 100 at 46 Carroll Road
(Next to the Big Picture Theater & Café, serving breakfast, lunch & dinner)
LEBANON, NEW HAMPSHIRE
October 2, 2014 • Thursday • 10am-4pm
The Pink Smock Gift Shop/Dartmouth-Hitchcock Medical Center Benefit
BURLINGTON, VERMONT
October 16, 2014 • Thursday • 10am-4pm
Fletcher Allen Health Care Benefit
MARBLEHEAD, MASSACHUSETTS
November 7 & 8, 2014 • Friday & Saturday • 10am-5pm
The Masonic Lodge
BARRINGTON, RHODE ISLAND
November 14 & 15, 2014 • Friday & Saturday • 10am-5pm
Barrington Congregational Church (The White Church)
WEST LEBANON, NEW HAMPSHIRE
November 21 & 22, 2014 • Friday & Saturday • 10am-5pm
A Fireside Inn & Suites
ESSEX JUNCTION, VERMONT
December 4-6, 2014 • Thursday & Friday 10am-8pm • Saturday 10am-5pm
Champlain Valley Exposition
CONCORD, NEW HAMPSHIRE
December 12 & 13, 2014 • Friday & Saturday • 10am-5pm
Holiday Inn Concord